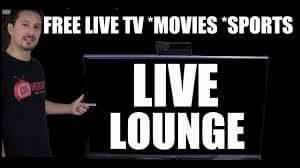 Now Called Media Lounge
Do not miss even a single score during the sports. While watching a football or baseball match.
Live Lounge got into development in the year 2017 and has now resurfaced as Media Lounge.
It has gained many users with its elegant user interface. Also, Media Lounge has 1000+ plus channels in it, and the main advantage is the Live Events.
It has many TV channels for all the TV fans. You can enjoy movies, and various TV shows whether new or old on this App. Enjoy the live TV anywhere. Live Lounge App provides free enjoyment to everyone who loves watching TV all day.
Watch different TV channels such as movies, kids, entertainment, business, Music, sports, fashion, travel and many more.
You can watch live sports such as Football, Racing, Wrestling, Baseball, Rugby, and golf.
There are TV channels of various types from different countries of the world.
Enjoy all the TV channels for free of cost.
HD style of watching movies, sports and shows will give you more joy.
You can watch movies and shows on any devices such as KODI TV, Firestick, FIRE TV and Fire Cube.
You can take the recreation by this App from any part of the world.
It is the best thing to carry while going for family picnics or long journeys.
The new TV channels are regularly added.
There are plenty of live channels available on the Media Lounge app, so let us discuss some channels.
On the home page, there are many categories like All Sports, IPTV, Movies, TV Serials, Kids Palace, Music, and Settings. So if you select each type there are 100's of channels which surely mesmerizes you.
All Sports: Sports IPTV, Football Replies, UFC, Main Events, Wrestling.
Wrestling: WWE, WWE Network, iMPACT Wrestling, RAW, SmackDown, NXT, Total Divas, INDY, etc.
Sports IPTV: Sky Sports Main Event, Sky Sports Action, Sky Sports FootBall, Sky Sports Box Office, Racing UK, ESPN UK, ESPN USA. MUTV, LFCTV, BT Sport 1, BT Sport2, Net GEO, etc.
Football Replies: Champions League, Premier League.
UFC: UFC 218: Holloway VS Aldo 2, The Ultimate Fighter season 26 finale, The Ultimate Fighter, etc.
Kids Place Animated Movies, Kids IPTV, Most Popular, Newly Added.
Animated Movies: Hedgehogs, Game of Thrones Conquest and Rebellion, Pirates Passage, Henry and Me, A boy named Charlie Brown, The Star, Thomas & Friends, LOU, etc.
TV Series: Top Rated(by users), Top Rated(IMDB), Latest Added, Most Viewed.
Top Rated(by users): 13 Reasons Why, Game Of Thrones, The Flash, The walking dead, Riverdale, Prison Break, Rick & Morty, Stranger things, Teen Wolf, Riverdale, etc.
Latest added: My Little Pony Friendship is magic, Erased, The chi, Father Brown, Ultimate Beast Master, Wolf Creek, Better late than never, little women, etc.
Music: Live Radio, Music IPTV.
Music IPTV: Heart radio, MTV Music, Music Classic, MTV Base, MTV Hits, MTV Dance, VH1, Ditty TV, CMC, Virgin Music TV, etc.
Check Out The All New Media Lounge Today When You Purchase One Of Our Media Players. Shop Now